A bronze medal at the South East London Inter Club Competition for Shomari Mills Legerton. Well done Shomari who was the only member of our Club to enter!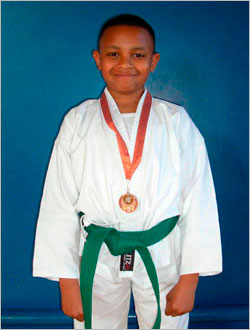 South Carolina visit anyone?
Pictured below: the Horizon's senior grades class with Rhonda Perry (front row centre) our visitor from South Carolina Agape do Karate Club. Her karate was impressive and we enjoyed meeting her. We hope that we can build on this new friendship between the two Clubs. Does anyone fancy joining me for a visit next year? We only have to pay for the flights! – Martin.