2013 News
---
---
October 2013 : Tokyo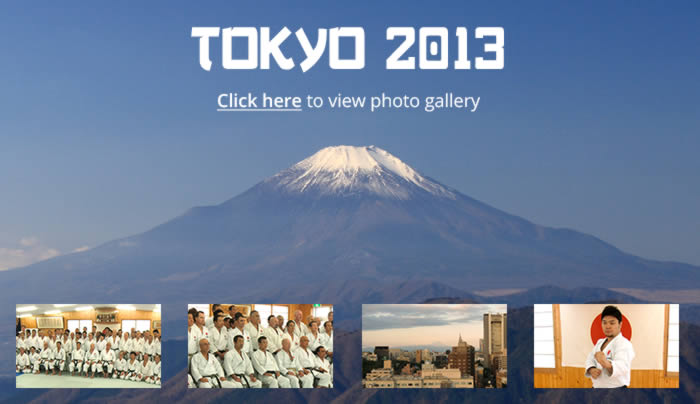 September 2013
Congratulations to our two new Black Belt First Dans, Laurie and Adrian, who passed on the Burgess Hill International Course.
May 2013
Sensei Martin with other JKA England Instructors at the Crawley International Course.

April 2013
Spring Training Camp at JKA Tokyo Headquarters
Martin Dobson attended the Spring Training Camp at JKA Tokyo Headquarters with several other JKA England Members and Senior Instructors. The training and friendship was excellent and it was a great honour to be invited to attend the Special Memorial Ceremony for the 10th Anniversary of Sensei Enoedas' death.
The First Day of the Training Camp with some of the JKA England Members and Instructors at JKA Honbu. (Left to Right:) Michael Zdanawski, Mick Lowe, Martin Dobson, Gary Stewart, Sensei Ohta, Glyn Morgan, and Giuseppe Donofrio.

Martin Dobson at Sensei Enoedas' Memorial in
Yotsuya, Tokyo
TOKYO ALBUM PHOTOS
Other memories of Tokyo April 2013
Click here to view the Tokyo Spring Training photo gallery.
March 2013
Congratulations to Shahinaz Pelter!
Congratulations are in order for Shahinaz Pelter after she passed her "level 3" JKA England Coaching Licence for both Instructor and Judge. The studying and obtaining of these qualifications helps strengthen the level of teaching in the Club.
WELL DONE!


January 2013
This year marks 25 years since the Club was founded by Sensei Martin Dobson in 1988. It started at the Balham Leisure Centre and was originally known as the "Balham Shotokan Karate Club".
Sensei Martin has had fantastic support from other Instructors through the years, who have helped with teaching, and training sessions have been unbroken for 25 years, other than Christmas and Summer Holiday Break periods.
With the privatisation of the Wandsworth Leisure Services, the Club moved to Balham Library Hall and then to the fantastic facilities of Ernest Bevin Dojo(training hall) which is part of the Sports College in Beechcroft Road Tooting Bec.
The Club now caters for all ages and abilities with a good number of senior Black Belts members.
Sensei Martin also runs sessions in Stockwell.
---